Introduction
Aerogels are a class of materials diverse in composition, properties, and capabilities. A specially formulated aerogel material may be the ideal solution for your technology needs.
Aerogel Technologies is the world's largest custom solutions provider of aerogel materials, providing advanced capabilities including:
Custom aerogel monolith shapes and sizes
Custom aerogel thin films, particles, and composites
Custom aerogel formulations
Custom applications integration
Materials properties characterization
Cost modelling
Production representative process development
Intellectual property development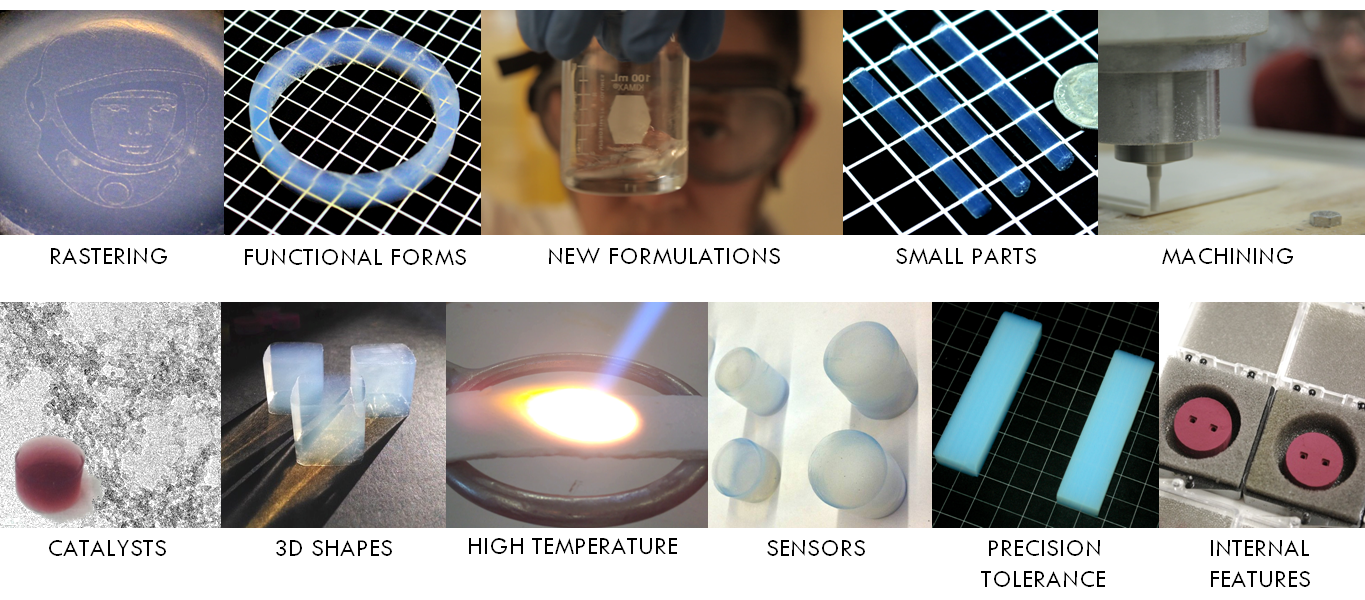 Types of Custom Solutions Projects
Custom solutions projects fall into one of four categories:
Type 1: Custom quantities or slight alterations of materials we make regularly, priced in the hundreds of dollars range
Type 2: Customization of shape, density, or formulation of a material that is known and we have made, priced in the thousands of dollars range
Type 3: Custom material with a formulation that has been demonstrated in the literature or that requires some R&D to implement, priced in the tens of thousands of dollars range
Type 4: Custom material with no precedent in literature, priced in the hundreds of thousands dollars range
Pricing for these services is determined according to project difficulty, part quantity, and schedule.
Technical Capabilities
Below is a list of some of the special capabilities Aerogel Technologies can provide for your custom aerogel materials project.
Special Quantities, Shapes, and Sizes
Bulk orders of stock materials
Larger and smaller sizes of stock materials
Monoliths, particles, thin films, and composites
3D shapes and features
Microtemplating—microchannels, micropockets
Custom strong aerogels
Rastering of bitmaps on aerogels
Functional forms such as rings, discs, and rods
Machining of aerogels
Small parts with sub-millimeter features
Precision tolerance parts
Complex internal features
Embedded elements
Special Formulations
Metal oxide aerogels: transition, lanthanide, actinide, main group, mixed matrices
Polymer aerogels: resorcinol-formaldehyde (RF), polyurea, polyurethane, polyimide
Carbon aerogels, metal aerogels, and metal carbide aerogels
Aerogel nanocomposites and x-aerogels
Strength-enhanced and machinable formulations
Specific densities
Hydrophobic and hydrophilic surface chemistries
Catalyst design and characterization
Ultrahigh-temperature materials
Aerogel sensors
Research and Development
Formulations research and development
Applications research and development
Product integration
Materials properties characterization
Process and Pricing
Contact us to start the conversation. Let us know what product or aspect of aerogels you are interested in and what your application needs are. Our team of scientists and engineers will assess your needs and propose an aerogel solution.
Special discount pricing may be available for bulk orders of stock materials and large custom formulations orders.
Custom shapes, sizes, and features typically involve a custom tooling fee and per-part pricing proportional to the size and complexity of the part requested.
Specialty compositions typically involve an additional formulations fee. Exotic and new formulations are more expensive than common compositions (such as silica, metal oxides, polymers, and carbon).
Lead times vary depending on project size, scope, and complexity.
Thank you for interest in aerogels and let us help you engineer limitless possibilities.